"Stop by anytime to check us out in person. All are welcome!"
Q. Contrary is a local custom clothier, who recently opened its first retail location in Arcadia. New York trained designer, Mary Zarob, owner of Q. Contrary, assists men and women with styling and creating a wardrobe of business and casual clothes that fit better, allowing customers to achieve their best look in today's fashions. Q. Contrary offers custom made and ready-made suits, jackets, slacks, and shirts. In addition to tailored clothing and alterations, Q. Contrary offers the Travis Mathew golf attire and men's accessories. Mary is always listening to her clients and looking to add more stylish and contemporary brands. Here are a handful of the products Mary sells in her boutique. Stop by anytime to check out in person. All are welcome!
Suits & Jackets
I had a handful of suits and jackets made and readily available for you. I handpicked classic colors and patterns that every gentleman should have in his wardrobe as well as solid blues, greys, and blacks.
Men's Shirts
From white to blue to black, I designed a handful of shirts readily available to wear today. A trim cut but can be tailored trimmer. If you can't wait for custom shirts to be designed and made, these shirts are a great alternative. I offer neck sizes from 15.5 – 17.5.
Men's Slacks
Ballin has been making gentleman's trousers and shorts for over 75 years. Their stretch comfort "Eze" waistband, performance fabrics and great fits make their trousers the best. When I designed for Macy's, we used them for all our private brand trouser offerings. A lot of my clients love their pants and color selection.
Travis Mathew
TM is a golf lifestyle brand from southern California. Their fabrics (cotton-poly blend) are lightweight and keep you cool. The fit is trim, but you can still swing a golf club. Especially if you compare it to other golf brands where there are tons of fabric in the chest and waist. Their fit is trimmer but still comfortable. The design is modern, and you can wear on and off the golf course. I offer a handful of polos, hats, and jackets.
Accessories
No outfit is complete without the right accessory. Either shoes, belt or a watch. Men are very brand loyal to those accessories and I'm not carrying any of those (yet). I am offering neckwear and hankies. Great options for your wardrobe.
Pig & Hen
Pig & Hen bracelets – Their bracelets are handmade in Amsterdam, by using authentic ship rope we carry on the Dutch legacy. They are meant to survive a lifetime, are stronger than steel and will age like your wrinkled face. Pig & Hen will save your life, even in a tight situation.
At Scabal, everything begins with cloth, which is why we offer our made-to-measure and bespoke suit customers the finest selection, with many woven at our English mill. Wool, pure linen, cashmere, and rare silks are only a few of the choices available. Their newest spring collection is available at Q. Contrary. This season's suiting collections are designed for the gentleman on the move. Adaptability and efficiency are at the forefront of our new introductions with two collections dedicated to creating the lightweight and practical travel suits, the results are not only easy to wear but also easy to tailor. In jacketing the team has taken their influences from the laid-back glamour of Italy with colors, patterns and refined designs created to evoke the feeling of a warm summer day. Colors range from the classic blues, browns and light greys to bold statement reds, greens, and whites. So, whether you want to blend in or stand out the new Scabal fabric collections offer you the perfect selection.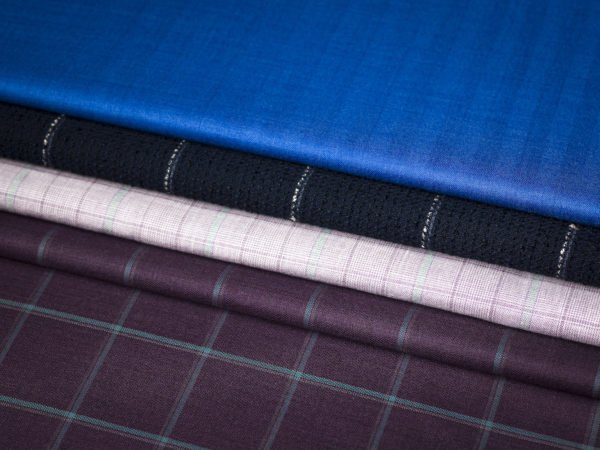 Gladson Fabrics
For over sixty years, Gladson Ltd. has been a premiere purveyor of the finest English, Italian and Imported fabrics and accessories to the custom tailoring trade in the United States. This spring I am carrying their Carlo Barbera's collection. These gorgeous fabrics are made in Italy and they have been creating the most prestigious fabrics for the world's premier fashion houses since 1949. By combining the finest raw materials with painstaking craftsmanship, innovative colors and designs, unique vintage looms and proprietary finishing recipes, Carlo Barbera has earned its preeminent reputation. In 2010, the mill joined the Kiton family, whose guiding philosophy of being "the best of the best, plus one" reflects the unparalleled quality, luxury, and rarity of Carlo Barbera's exquisite fabrics, exclusively available through Huddersfield Fine Worsteds. These fabrics are extremely lightweight and perfect for Phoenix's warm temperature. Their collection contains an assortment of blues, greys, browns tans and plums. Their patterns are classic menswear patterns such as mini-houndstooth, shadow stripes, multi-stripes, Prince of Wales checks and windowpanes.
Women's Custom Clothing
I'm excited to announce I am offering women's custom clothing. I have a resource offering a variety of jackets, skirts, pants and shirt styles. Not just the basic 2 button suit but different lapels, pockets, and silhouettes. I hear from many ladies they have a hard time finding good quality clothing and I'm excited to help.
What Q.Contrary Clients Are Saying
"I enjoy working with Mary. She has a great eye for fashion and always helps me pick great fabrics and patterns for my custom shirts. I'm super busy and appreciate that she meets me at my office and I don't have to go to the mall. The quality of the shirts is top of the line and I enjoy wearing them."
Michael Lieb, President Michael Lieb, Ltd.