I have a great golf brand I carry in my store called Greyson Clothiers. The owner, Charlie, started the brand about 5 or 6 years ago. He used to design for Ralph Lauren for about 13 years. The great things I see in what he does is that he pays so much attention to the colors, the fit, the tailoring of the garments and all the detail. He really makes some amazing garments. The fabric that this brand uses is some of the top of the line fabrics from Italy. When I receive new products, I swear they get softer and softer.
I carry a lot of their products in my store and would like to walk through a handful of their signature pieces. Some things you can wear season after season and use to update your wardrobe. The first one is the Saranac Polo. The saranac polo is a micro feeder strip, it's all over. It's a poly-blend fabric, but I'm telling you, this fabric is really soft. When you think polyester, you think super silky and cheap. This isn't the case with this brand. This has a great hand feel, with a good body to it. If you have man boobs and a big old belly, this may not be the polo for you. The fabric will drape and show those curves, however, if you are not afraid to show some curves, check this out. They do a great thing in the placket, they do all sorts of detailing. I have this polo in a ton of colors. I have this arctic one and it is one of my best sellers. It is light, refreshing light blue strip. When the strips are done more tonal they almost look like a solid color. So, the Saranac polo, it's my best seller, you're going to love it.
Another polo that they do is called the Tuscaloosa polo. In this polo you can see the strips are a lot bolder. I also have it in a Raven color and a plum color. The thing that makes this polo is the Jacquard collar. I'm very happy they didn't make the collar in the same fabric as the body, that would have been way to many strips. This collar is small, it hugs your neck nicely and it just elevates the whole look of the polo. In the orchid color, I love the purple collar and all of the detailing in the garment. The Tuscaloosa polo, same fabric as the Saranac polo, crazy soft with a good drape to it, great body.
Another one of my good selling polos from this brand is the Omaha polo. I'm obsessed with this polo. The reason is because it is a cotton-ploy blend fabric. It has a good hand feel, it breaths and has great structure. They do use a smaller collar, which is great. Self-detailing with a little logo trim at the bottom. You can hardly see it, even in the light blue color. It's just a great clean polo. I carry this in a 2XL and 3XL. The way they size their polos big. If you normally wear a medium you will want to go to a small in this brand. If you wear a large or x-large you may want to go down a size, if you like a polo shirt that is trimmer. The great thing about this brand is if you are a really, really big guy you can fit in the 2X or 3X polo. It is a large polo but still comfortable. They do great proportions. Charlie, who I said designs this brand, he pays a lot of attention when making their fits. The way that they graded this polo up in all the sizes it actually fits larger men really really well. It's cut longer, so if you have a bigger belly, it will fit over it. It's not going to be a crop top. The sleeves are very proportional. You can always take it in, if you fall between a L/XL go to your tailor, or come see me, and we can tailor it. This polo is a must for your wardrobe.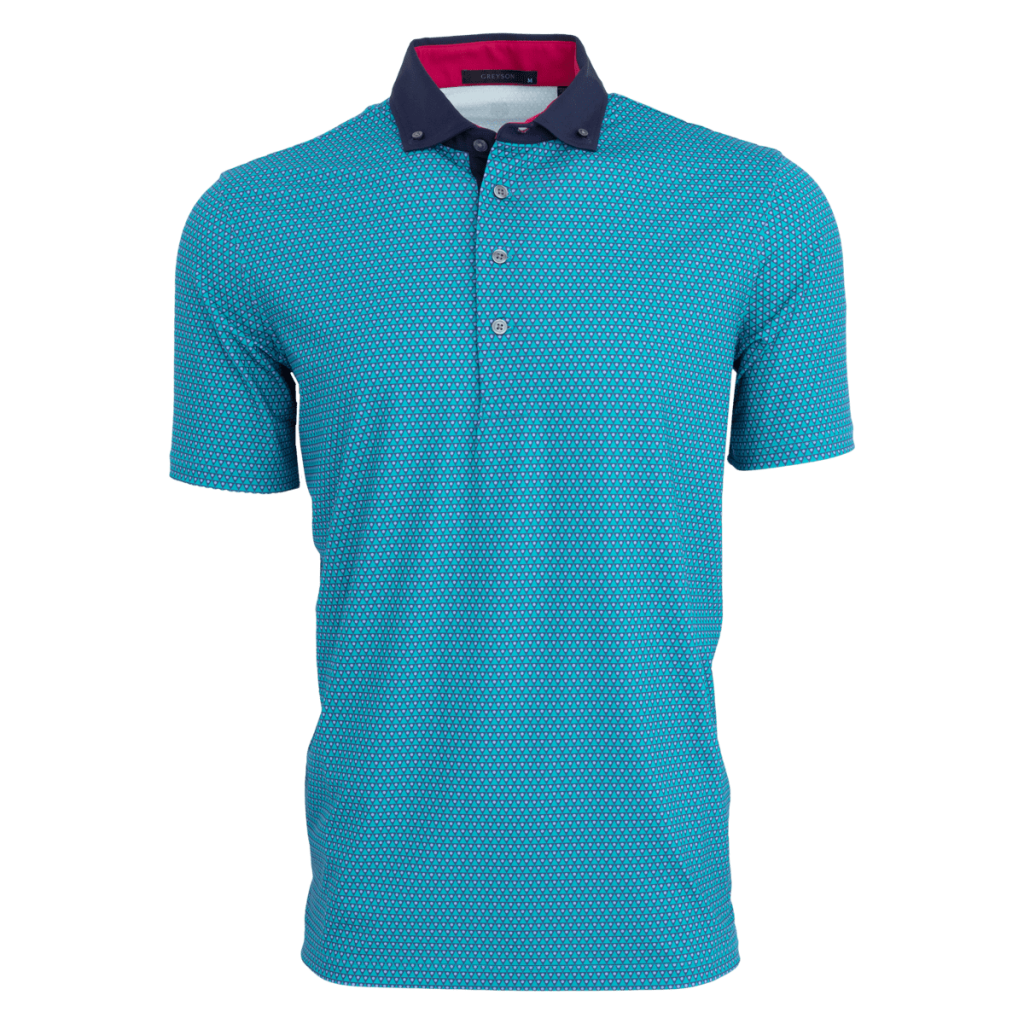 They also do really great all over prints. They pay so much attention to the collar, and the details of the garment. This shirt is super wearable. Their Trout polo, if you look really closely at it, there is fish all over it. This is their moons and mountains polo, with little triangles and circles all over it. It's a great color. One of my favorites is the icon polo. It has little wolf heads, that is the signature logo for their brand. There is a story behind it, but I'm not going to share it because I don't have it memorized it, but there are just super cool looks for this brand.
If you are out there looking for something new to try, try Greyson. If you have questions on sizing send me an email. You are going to love it, Thank you!