My style series continues and today I'm featuring Trevor Koskovich. Trevor keeps his style and how he dresses very minimal and traditional. I always see him sporting blue and white shirts, blue slacks and similar suits. I think a lot of men and especially new guys in the real estate industry should model off how Trevor dresses. Everything in his closet goes together and he doesn't have to think about it. It's his work uniform and a lot of successful men do the same. Such as Mark Zuckerburg, Barack Obama, Steve Jobs, and Dr. Dre. Hope you enjoy reading my interview with Trevor and enjoy the advice and style tips he shares. Thank you, Trevor for sharing!
Tell me about yourself and what do you broker?
I am an investment sales broker – mostly apartment buildings but I sell all types of apartment buildings.
Can you talk about your current style and how you dress for clients and/or meetings?
I like to dress more traditional. For instance, if I have a big presentation, I'll wear a navy or grey suit, solid tie and white shirt. If I have a more casual meeting, then I wear a sport coat, navy slacks and a blue or white dress shirt. I always wear Allen Edmonds shoes and think all businessmen should wear them too. They are classic, great quality and go easy with everything.
Do you have a work uniform? Do you tend to buy/wear the same color suits, jackets, shirts, etc? or no?
Yes!! Navy slacks, white or blue dress shirts – I always buy tailored shirts. I carry a sport coat every day. I try to avoid ties when I can. That's pretty much it.
What advice do you have for anyone getting into real estate in regard to their wardrobe. What they should wear? Avoid wearing?
I'd suggest knowing who you are and develop your own style. Also, know your audience. If you are in the Midwest or your clients are, you want to dress more traditional. If your clients are in LA or SF, you can dress a bit more modern. You also want to know the age of your audience and dress to them. In addition, to dress for success, it's more about having a couple well-made/tailored garments in better quality than tons clothing at less quality. People notice and the better made clothing will last longer. You want to have 2 custom-made suits than 10 shitty Jos A. Banks suits that don't fit. Have less but in better quality.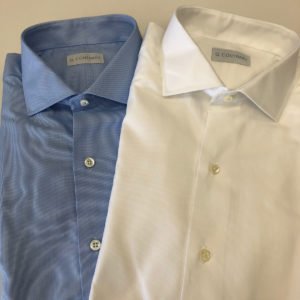 What are 5 thing every man in your industry should have in his wardrobe?
2 – Custom Navy Suit
4 – Nice watch
5 – Navy Blue Sport Coat
Do you ever dress casual and if so, for what occasions? What are some casual looks you like to wear?
For work, I never dress casually. Weekends I do and usually khaki pants/shorts and a polo.
How do you dress differently when the temperature gets so warm here in Phoenix? Do you keep an extra shirt at the office if you sweat? Wear m
ore linen fabrics?
No deviations – buy a higher quality suit that breathes, and you can wear it 12 months a year. Also, buy a car coat or a longer coat and wear it in colder climates. I go from the garage to garage and park in the shade. When it's hot, I don't hang out outside.
Any advice or style tips you would like to share?
I recommend buying the best quality you can afford. I think quality is be
tter over quantity. Stick to the basics in the beginning. See who you meet and as you grow, your wardrobe will grow.