Hats are a simple way to enhance and revamp your personal style. Headwear is worn no matter the season, weather or event. Throw out that old beat-up hat that may or may not have been chewed on by your dog and treat yourself with a new and improved hat.
The new "Flash Forward" hat from TravisMathew is refreshing and modern. The blended fabric makes the hat retain its shape while the mesh backing ensure you stay cool throughout the day. The firm but pliable brim makes it easy for you to customize the hat to your liking.
It's as simple as it gets, with the Nassau Hat you can obtain an ultra-clean and lustrous look. You could consider this hat the "ultimate dad hat'; comfortable, casual and a great alternative to hair regrowth treatment. TravisMathew made the front panel blank, giving you the freedom to create you perfect hat. You can represent your brand, company and hey maybe you want your dog's face on your hat, TravisMathew gives you the opportunity to do so.
The hot new trend is this retro woven circle patch which TravisMathew includes in almost all his styles. I personally fell in love with this style and the versatility, it's made to fit almost any size head with the flex fit all around stretch technology. It's a refreshing new style to add to your wardrobe line-up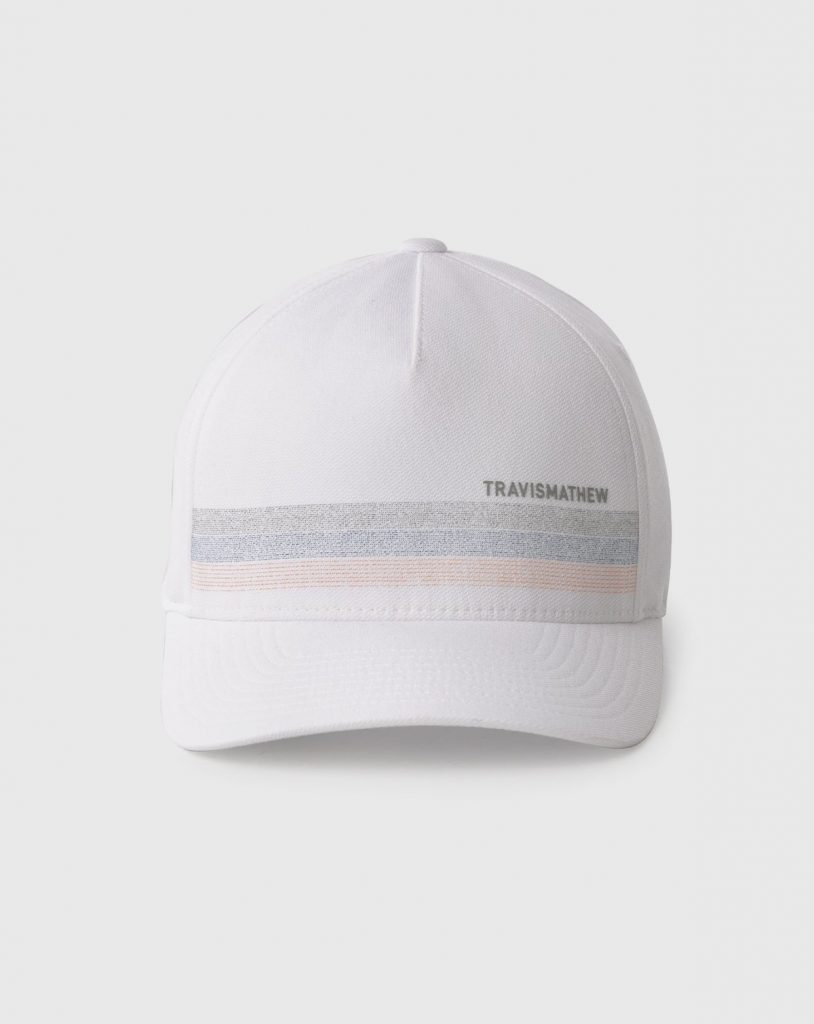 You all know the phrase "the one who wears the white hat" it's a sign of good intent or one who is honorable. If I am being honest, we could use a few more guys in white hats. I know what you're thinking, I'm only going to get this thing dirty. That is a risk you must be willing to take when you shop "Dress Code" because you can look good without being a little risky.
Styling a red hat doesn't have to be as complicated as it sounds, it's easy when you have the right tools. "Heat of the Night" features a 3-color print hexagon patch making it effortless to plan an outfit. Match this with a sleek grey polo and a pair of black trousers, simple as that. Add this firetruck red to a plain outfit for a touch of spice.
Become the life of the party in this simple yet daring hat. It features flex fit technology and simple single needle-stitched woven label. The neon baby blue diamond pattern adds a little color in what's seemingly a basic blue ball cap.
A clean black hat is the holy grail in the headwear world. You can't go wrong with TravisMathew signature circular patch which features a soft blush pink and grey circle outline along the edges of the patch. Click the link to shop this classic hat.
This is another hat from the "Life of the Party Collection" from TravisMathew, I want to show case the details within this print. It's a fun hat that was basically meant to worn poolside. It's a fabric snapback with a simple brand label patch.
Life is better on the "Waterfront", TravisMatthew agrees so much that they pasted the brand logo right of the front panel. Show your TM spirit with the "Waterfront" dusted blue fabric hat. Features Flex fabric which ensures that your hat fits snug but comfortable.
This is your classic black hat but with a retro flair. It's a textured fabric with a wool look but a silky feel. The touch of Cranberry within the patch adds a pop of color but still makes this hat adaptable and functional from almost every outfit.
Mix up your wardrobe with "Spice Night", pop this guy on and watch your night turn into day. The two-toned colors with the small square patch add a bit a spice to this classy grey and black flex fitted headwear.
Pay a little homage to the great Grand Canyon State with this Arizona inspired hat. The circular "seal" patch features the Arizona State Flag with a red stitching along the rim to enhance the color in the patch. It's a solid patriotic blue to bring a cohesive look throughout.