After being postponed, the Masters teed off today in Augusta, Georgia. This tournament is one the of the most watched sporting events of all time. Crowning the Green Jacket is like winning the Stanley Cup or Wimbledon Cup. I wasn't able to watch the golfers start their day after the rain delay and later see the blue skies push the clouds away. I did catch what the golfers did sport today and here are some of my favorite looks:
Brandt Snedeker in a monochromatic look (head to toe in 1 color). Truly one of my favorite looks for men today. On or off the golf course.
Bryson DeChambeau sporting a polo with a chest stripe. This is one of TravisMathew signature polo style. No, they didn't make the polo Bryson is wearing (Puma did), however, this is a polo style you should have in your golf rotation. A chest stripe.
Webb Simpson is wearing another chest stripe or piecing look. Love this look. Fresh and wearable. Bummed I didn't get a better photo, however, you get the idea.
Dustin Johnson wearing a pieced chest polo just like Webb. I am hope more of this chest color blocking look will be seen on more men today. Some of my best-selling polos in my shop are with chest piecing.
aul Casey is wearing a modern look for color blocking and chest piecing. Love this asymmetric and cleaner look. Still sporty and details but more modern and cleaner. Did you notice his green pants? Look again! Green is the main color for fall.
Sure, the winner of this tournament is awarded the most desired Green Jacket. I love seeing the golfers sporting green, however, last year not too many men wore green on the greens but this year you are seeing more sport this fall color because it is a trend color this year. I love the different versions of it. Here are some of my favorites:
Rickie Fowler wearing a lime green allover print polo – love this look. Pairs perfectly with the white pants.
Corey Conners wearing a "kiss of mint polo" with grey slacks. If you take away all the logos on his polo, you probably have this exact look already in your wardrobe. Great wearable green polo.
Tiger Woods is one of the most talked about golfers in this tournament and that makes me so happy. Because he's wearing a dark green micro stripe polo. The color every man needs in his wardrobe this fall. It's money! Hope while everyone is taking notes on how he swings the club, you are taking notes on this outfit he is wearing. Great look, Tiger!! Makes me so happy. You'll probably see him sport that red mock neck short sleeve shirt one of these days. That's his golf uniform.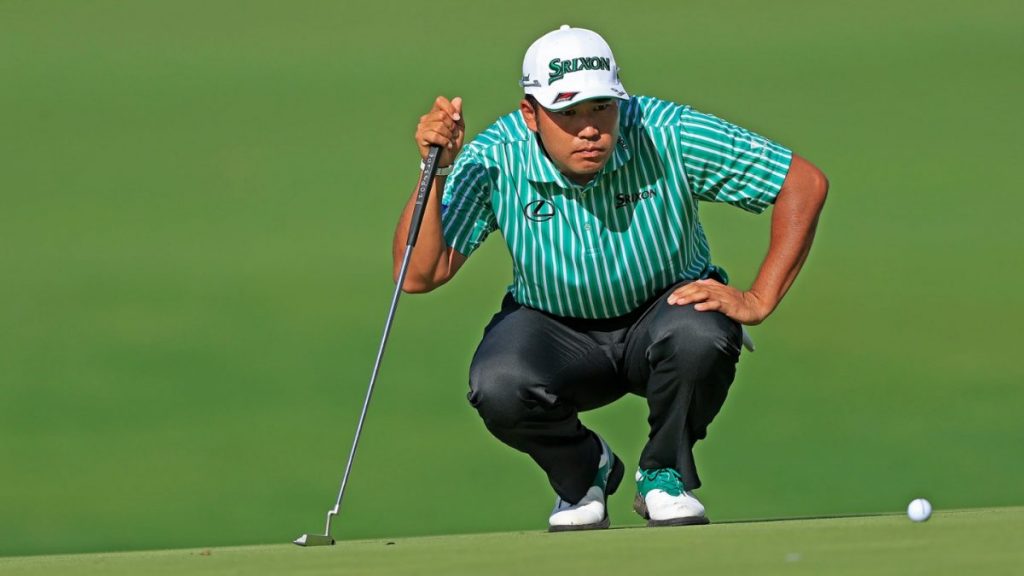 Here is my favorite look, Hideki Matsuyama's vertical stripe polo. Super old school cool kids look. It works because it's green with white stripes so it's bold and sporty but not too clown like. Also, it's tailored but not too tight (aka the fit is on point) and he pairs it with grey pants. Not bold pants but a classic color pant. The polo is the statement piece and the pants compliment it. Also, his shoes are white with green colored saddle straps. Totally ties this look together. Love it! Well done, Hideki Matsuyama!!
Looking forward to seeing what the men are sporting tomorrow!!
All photos are from masters.com