If headed to the kentucky derby, make sure you dress the part
As we approach the most famous horse race on the planet, the Kentucky Derby (May 7, 2022), thousands of lucky fans are beginning their preparations for this prestigious event. Keep in mind that the Kentucky Derby is a must-do destination for many A-list celebrities, movie stars, royal families, the wealthy and more.
The primary rule for both men and women when considering what to wear to the Kentucky Derby and its sister race, the Kentucky Oaks on May 6, is to remember that the Derby is not only the most important horse racing event of the year, but also a fashion show. That's why most people who attend seriously consider their fashion choices.
Although the Kentucky Derby and the Oaks don't have an official dress code, there are some unspoken rules depending on where you are sitting. Derby Day is an opportunity to see and be seen, so if you're sitting in the reserved areas (grandstand, clubhouse, suites, and corporate hospitality areas), you need to be aware of the fact that they require business casual including jackets, suits and collared shirts for men and dresses or pantsuits for women. The raucous infield is the exception where almost anything goes. However, even though there are no hard and fast rules, the organizers reserve the right to deny someone entry based on their clothing choices so avoid jeans, tennis shoes, torn clothing, and crop tops.
Now let's get down to the specifics of what ladies and gentlemen should wear to the Kentucky Derby and the Oaks.
Ladies
There are only two options for women when attending the Kentucky Derby: dresses and pantsuits in sophisticated silhouettes. Preferred colors in your effort to be a Southern Belle for a day are pastels in solid colors if you're not daring or select a dress that is full of color, floral or with a horse pattern. Use spring as your inspiration for what you select.
There's also one key accessory that must be considered – hats. Wearing a hat to the Kentucky Derby is considered good luck. Really, along with the horses, they are the stars. Most women wear wide-brimmed, Southern Belle type hats, but then there are the amazing ones decorated with flowers, feathers, bows, ribbons, fruit, etc. letting the wearer express her creativity and individuality. Hats are so much a part of the Kentucky Derby look that there are official milliners selected each year by the Kentucky Derby Museum. From the spectacular to the splendid, there are no rules when it comes to selecting your Derby hat.
As far as your other accessories, just make sure that you have a complete outfit from head to toe. That includes shoes, bags and jewelry, but remember, your hat is the star so don't upstage it.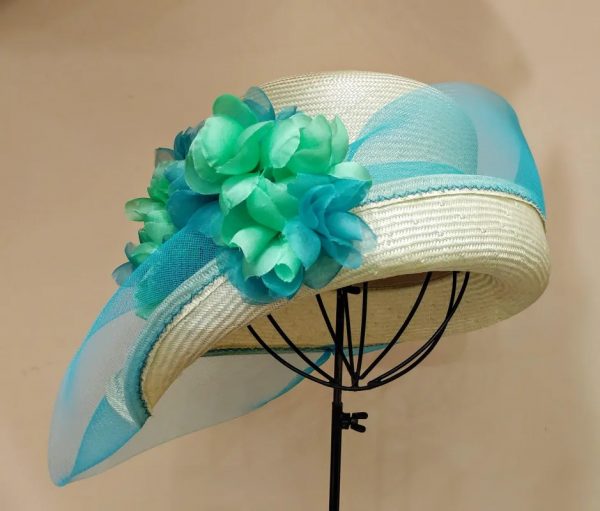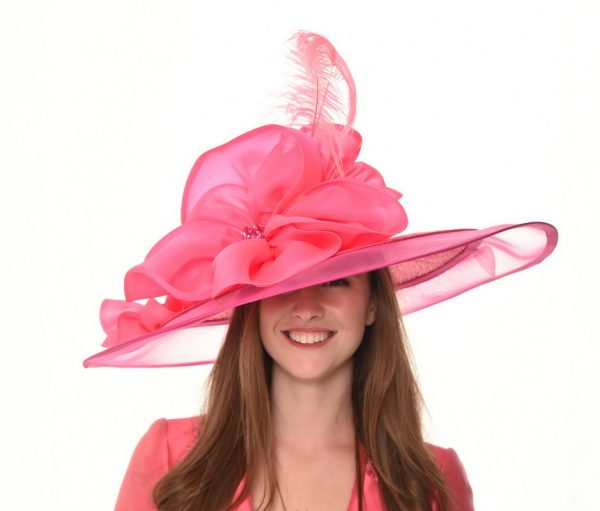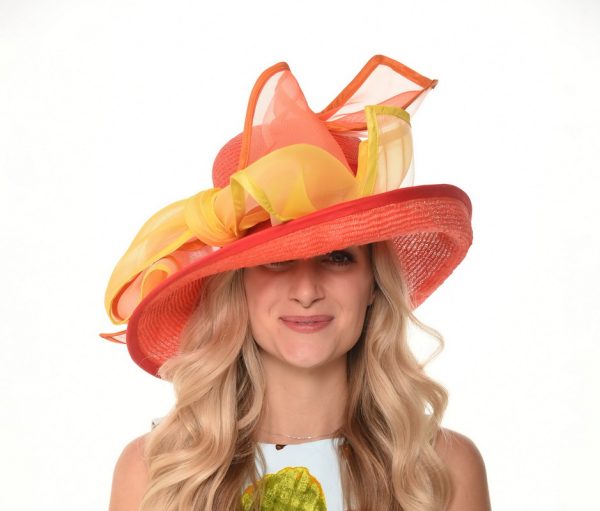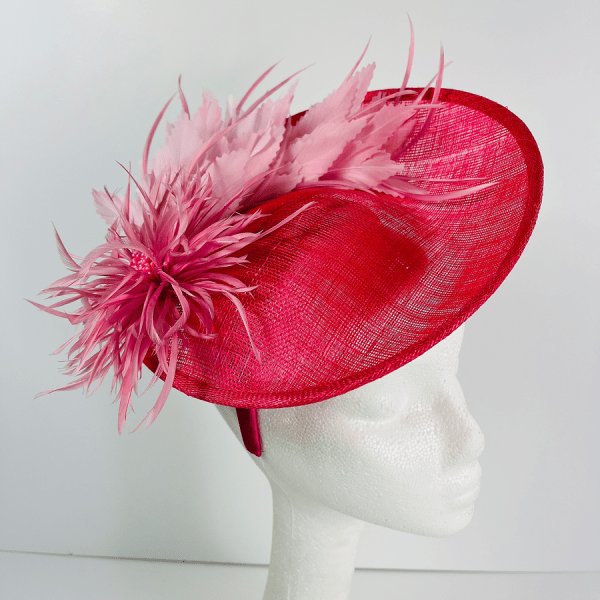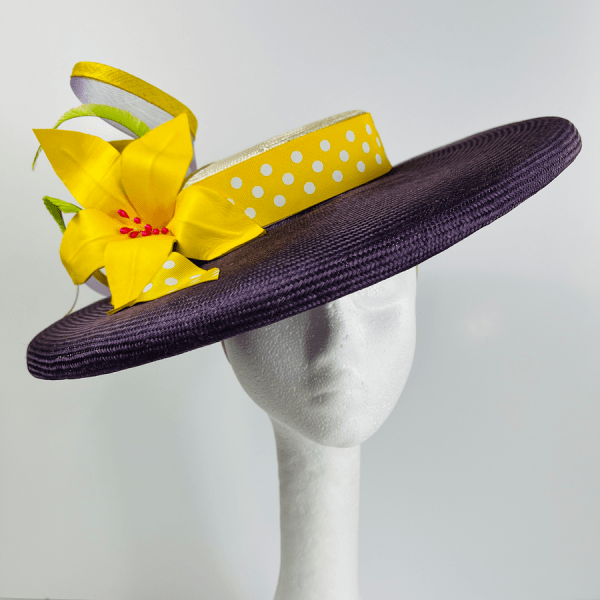 Gentlemen
Men are certainly not left out of the fun of the Kentucky Derby when it comes to fashion. Bright and pale colors in bold stripes, busy plaids as well as bright pastels will be front and center on May 7. In recent years men have joined the fashion parade at the Kentucky Derby wearing pastel suits and unexpected prints to stand out from the crowd. However, if you want a more polished look, or don't like experimenting, a classic navy or seersucker blazer or a navy suit will always make the grade.
Start by selecting pants first because they stand out from a distance. Guys should be daring and select sun drenched colors such as key lime, ocean blue, Bermuda pink and lemon. Any of these colors will look great with the right jacket and a dress shirt in complimentary colors. Don't be afraid to select a patterned shirt in gingham or a striped shirt since attire is part of the fun and fanfare of the Derby.
Your jacket is what will bring the whole look together, and, of course, you can't go wrong with a navy blazer. As far as two or three button, it's personal preference. And the tie comes next. Have fun with it. Just make sure it works with your shirt and jacket. If bow ties are your preference, go for it. For shoes, select good loafers, preferably without socks weather permitting.
And, don't forget your hat. Top it off with a fedora or bowler for a true Kentucky Derby look. No matter what you wear, it's how you wear it guys. The most important thing is to look confident.
One last note, if you're attending the Derby's sister race, the Oaks on May 6, you can wear any color as long as it's PINK – from hats to handkerchiefs, suits to dresses, sunglasses to heels. Though there is no hard and fast rule, guests are encouraged to incorporate pink into their attire in an effort to drive national attention to the fight against breast and ovarian cancer.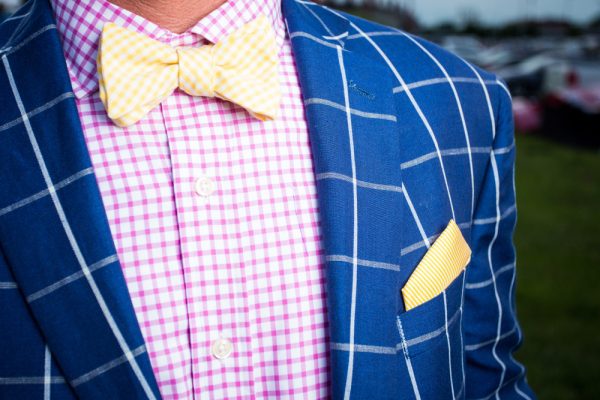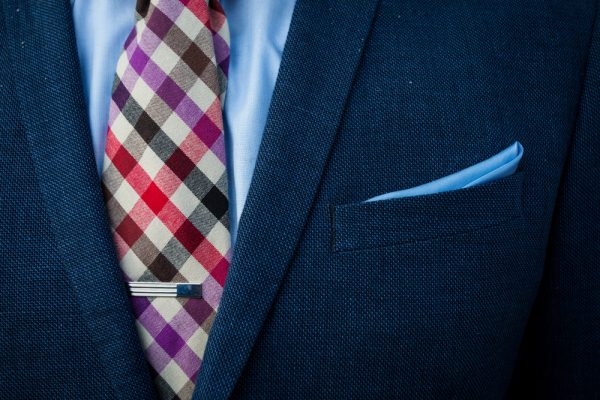 I'm Mary from Q. Contrary. Check out my shop in Phoenix at 3168 East Camelback Road or visit my online store. I'd love to help you find just the right outfit for the Kentucky Derby or even a Derby party.