These days wearing a suit is less about being a "given" and more about personal style. After two years of pandemic lockdowns, we're not dressing up like we used to do, but you might change your mind after you see the Scabal fabrics Q. Contrary is using to make custom suits for gentlemen who want to stand out from the crowd. Renowned for their luxury fabrics made exclusively in their English weaving mill, Scabal has been at the forefront of innovation and sophistication in fabric weaving for over 80 years.
At Q. Contrary, we think there's no better fabric than Scabal to help you freshen up your wardrobe and redefine your style in this post-Covid era. This summer season their fabrics are influenced by the Italian summer from Capri to Amalfi.
Let's start with suits. Wearing a suit says something about you – your style, your personality, your level of sophistication. Scabal has two fabric collections. The Silver Cloud is a concise collection of suiting fabrics which has the perfect balance between understated subtlety and surprising color. Constructed from 100% Super 120's wool, it feels fine and light and is the perfect suiting for the warm summer months. Designs are refined and tasteful including checks, houndstooth, semi-plains and shadow checks in shades of blue, grey and black.
The Image Collection is one of Scabal's most versatile suiting collections. Made from a superfine Merino wool, the fabric is constructed in a twill which enriches the weave and makes it very durable but with a soft feel and a modern drape. This is classic suiting at its best, but, in addition to solids, expect to find a large assortment of stripes, checks, glen checks, micro designs and shadow weaves. At Q. Contrary, we tend to favor the blue hues.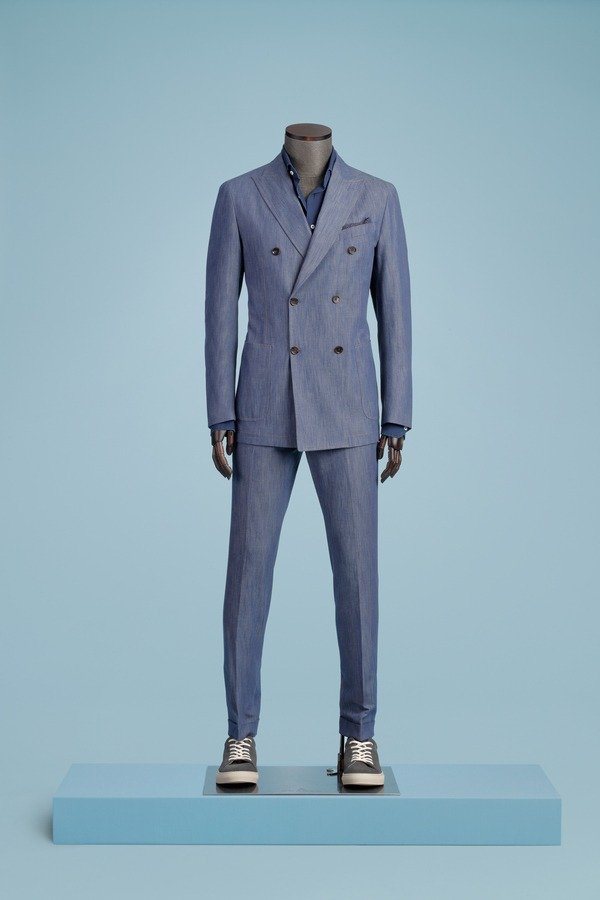 Jackets made with Scabal fabrics are just as stunning as their suitings. One of their major jacketing collections that I like is the Amalfi, which has three groupings. The first is a capsule of checks made of a combination of wool, silk, cotton, and linen to create depth and texture throughout the fabric. Patterns pair with almost everything so a jacket in this fabric is a way to extend your wardrobe.
The second capsule is more classic in color palette (blues, greys, etc.) with the introduction of luxury comfort options that mimic herringbone or pique, perfect for light weight blazers and so comfortable and easy to wear, especially in summer.
The third Amalfi capsule is just so unexpected. A denim inspired fabric is featured in a mid-blue to create a more casual looking jacket, but this is no ordinary denim. Silk has been added to the cotton to create a more deluxe fabric with a softer feel. Worn with trousers of the same fabric, it makes for a sophisticated yet casual tone-on-tone look.
At Q. Contrary, we think Scabal gives sophisticated guys new ways to wear blue. I hope you agree. I'm Mary from Q. Contrary. Check out my shop in Phoenix at 3168 East Camelback Road or visit my online store. I'd love to help select the perfect suiting or jacketing fabric for that custom suit or jacket you've been thinking about.