Thank you to everyone who came to my store opening event last week! I truly felt the love and support from everyone. Thank you to Harvey from Scabal for sharing the latest spring fabrics. Thank you to Beau from Travis Mathew for showing the latest designs. All while sipping tequila from Corcel Tequila. Thank you, Esteban, for sampling your tequila. Everyone had a great time and will defiantly host another event soon.
Until then, I'm offering 15% off all custom clothing for men and women (til April 15th, 2019). It's a great opportunity to get a new jacket, suit or shirt for your wardrobe. Have you been wanting to try custom clothing? This is a great way to design something new and save some money.
Here are some new fabrics I received for shirts, suits, and slacks: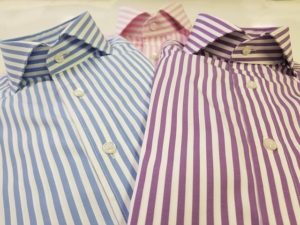 Call or email to schedule your fitting.
Mary Zarob
Q. Contrary