Joe Biden, our 46th president, was inaugurated Wednesday January 20, 2021 on the steps of the US Capital. Every 4 years we elect or re-elect a president and today was no different than any other inauguration. A lot less people were in attendance (due to covid), however, the same ceremony and swearing in took place as usual. I don't talk politics in my business or blog but love posting about fashion and what people wore. I was excited to see men in suits and topcoats and ladies in pant suits, long coats and lots of color. Here are some of my favorite looks from what I saw.
I always expect Democrats to wear blue accessories and Republicans to wear red accessories. I absolutely love the baby blue tie Biden wore. It complimented his wife's outfit and was a happy color to see. It gave life to his navy topcoat and outfit. If he wore a darker navy tie, it would be too solemn or businesslike. Today was a celebration for him and the bright tie was appropriate. I love that is didn't totally match his wife's outfit. That's too prom like. He's way past that. Dr. Jill Biden's outfit was classy and bright. Her look did not take any attention away from her husband but complimented him. I don't see her making too much of a style statement these next 4 years and her look is much older and something my grandma would wear. That's perfect for her. She dresses age appropriate and I believe she picked the best look for the event. Michelle Obama and Melania Trump were much more fashionable and had fresh looks at their husband's inauguration. They are also a lot younger than Dr. Biden. I don't expect her to be a style icon like the previous first ladies, but she has 4 years to prove me wrong. She can inspire the older generation to dress up. I liked her classy conservative look.
Love the bold and bright color Kalama Harris wore! She looked amazing! I love that she didn't wear red or blue and purple was the next best color. Purple is very regal and for the role she is stepping into, it fits her. Any other color would have been too bold or solemn. Classy pearl accessories and a perfectly tailored wool coat. I look forward to seeing what our new Vice President wears these next four years. Her looks in the past seemed very inspired by Hillary Clinton and those looks are appropriate for her position and representing our country. I do hope she wears more color, accessories, patterns and possibly a skirt these next four years. Let's watch together.
Michelle Obama wore my favorite look. She always sports modern, tailored, bright yet feminine looks. Today she did not disappoint. She looked gorgeous in her monochromatic cranberry sweater, coat and trousers. So many in attendance today wore a monochromatic look. I've been talking about this look/style for some time now. I love how she wore it yet she was feminine and modern. It's not always easy for women to dress conservative, age appropriate yet feminine. She always does. Please look to her for style ideas. Here are a couple pointers why her look worked. It was tailored and the fabrics were soft. It was not tight or sexy and everything was covered. Her accessories were on point. That belt completed the outfit yet wasn't overpowering. I love the layers she wore and they all went together. Thirdly, her hair and make-up completed the look. Looking good isn't always about the clothes; it's also your hair and makeup. Hers was done well and the bounce of her curls complimented the flowy fabric of her coat and pant. I do wish those pants were an inch or so trimmer. I thought the leg width was a bit too wide and made her look larger that she is. I would have trimmed the leg by 1.5 inches. But that is just me.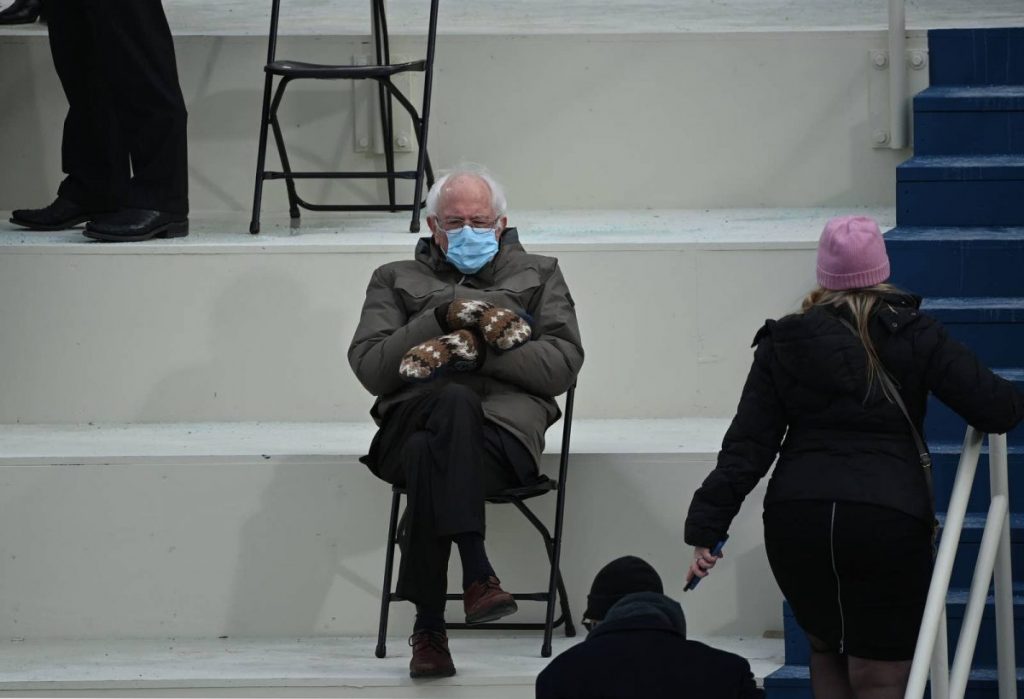 Oh Bernie Sanders – I have no comment. I don't expect any more or less from his style.
He doesn't have much if any style. On to the next.
It wouldn't be a political event without celebrities. Lady Gaga looked classy and stunning with her navy a-symmetric wool coat with red full skirt and bird broach (coat/gown was made by Schiaparelli). Hope the dove carrying an olive branch will inspire our government to work together (wish it was that easy) but love that accessory. I didn't care too much for her hair style, however, I love seeing her at events because she always wears edgy unique looks and here is a DC/conservative version of that. I do love how her style has evolved and she continues to inspire me. She never disappoints.
Jennifer Lopez heard the memo of monochromatic and dressed heavenly in her white Chanel look. It was nice to see everything covered up and her looking classy. You never know when she shows up what she will wear or not wear. Love her layers, long coat and full pant. Her hair was pulled back nicely, and she looked very classy. Well done, JLo.
I love the bright yellow Prada coat Amanda Gorman wore when reciting her poem. I thought her choice of color, style and accessories were fantastic for the 23 year old. She was polished, classy and when she read her poem, you couldn't help but smile and feel the sunshine through her warm coat, smile and words.
I love how everyone's look didn't steal the show. Meaning, no matter what everyone wore, it was still about the inauguration and welcoming the new President. It was not about making a fashion statement. From Biden to Harris to JLo, everyone in attendance dressed respectable for the event and didn't steal the stage with an outfit. Sure, a lot of us are talking about Bernie chilling with his mittens but better that than some outlandish outfit. I loved seeing the women in color and the men suiting up with topcoats. Classic and American.
Photos from BuzzFeenNews