It's one thing to wear a garment that fits well. It's another thing to wear a garment that fits well and is made from the most luxurious fabric in the world. That garment you will love, cherish and never want to take off. Fabrics are the most important ingredient to a garment. How it breaths, feels and performs. When I think of the most luxurious fabric in the world, I immediately think Loro Piana fabrics. I'm honored to carry their fabric collection in my shop and custom make garments for my clients. From jackets to skirts to slacks to suits. When this cloth touches your skin, you won't ever want to take it off. A garment made from Loro Piana fabrics should last your lifetime and then some. Loro Piana also makes their own line of clothing and you can find them at some higher end boutiques. I've tailored many of these garments and they are made so well. I've spent a lot of time learning about LP fabrics and what makes them so great but also what fabric is best for certain lifestyles and how they perform. Here is what I have learned about Loro Piana fabrics working with these amazing fabrics.
1. Loro Piana is an Italian cloth house and makes some of the most exquisite fabrics. Tell us about this amazing mill and what sets them apart.
Loro Piana is a company that spans 6 generations, completely vertically integrated. The raw materials are sourced either from the Mongolian plains for the finest cashmere fibers or Australia and New Zealand for wool.
Once they have been sourced by our experts, they are treated, spun and woven entirely in our facilities located in Italy. The whole production process is closely controlled and monitored by us, from start to finish.
In addition to the Textile part of the business, there is the Luxury Goods division, the final garments, accessories and the likes in our stores, that has contributed to greatly reinforce the Loro Piana brand name as the pinnacle in luxury fashion of uncompromised quality and craftsmanship.
Unlike other high-end fashion brands, Loro Piana does not really advertise, there are no Loro Piana billboards anywhere. It can be considered as a sort of reverse marketing, whereby the company is so exclusive that either it is known, or it is not.
2. Each season (spring and fall), I get new fabric books. Tell us about some of the new fabric collections.
We should definitely mention the Proposte Giacche since these cards give variety to the permanent collections in the books. Particularly successful are the Summer Time articles, fabrics of international appeal for suits and jackets – refined, fresh and comfortable, that are the result of a skillful blend of wool, silk and linen, carefully formulated to enhance the qualities of each fiber: the softness Summertime draws on Loro Piana's passion for the world's finest natural fibers, its unceasing research and the technical expertise that goes into creating innovative, refined fabrics that respond to the needs of contemporary clothing.
Very interesting is also the Denim Time, a fabric that elevates denim, lending it a crisp, contemporary feel. The finest Merino wools infused with silk and linen to create an original, sophisticated combination. Denim's signature compact texture and durability make it perfect for blazers, dusters and trousers.
Last but definitely not least there is the Linen Tweed, an original summery interpretation of tweed in a blend of wool, silk and linen. A tribute to Loro Piana's passion for the world's finest natural fibers, its unceasing research on innovation and performance, Linen Tweed capitalizes on the intrinsic properties of the fibers used to make it: the softness of wool, the luster of silk and the distinctive slubs of linen, which lends texture. Presented in patterned jackets and sophisticated blazers, Linen Tweed is comfortable and breathable, ideal for warmer weather.
3. What are some colors and patterns you are seeing more men wear this fall in suits and/or jackets.
Plaids are a definite must nowadays. The current undergoing situation is redefining tastes in fashion, with a slight but progressive move away from the more traditional "office suits and jackets", the traditional navy, grey and charcoal solid colors.
Formal suits are being used less, also because many professionals are now working from remote and there is no need for such formal attire. However sport jackets (for example is the Jacket book 690 and the Proposte Cards 705 and 709, for spring20 and fall20 respectively) are becoming rather popular, since they are ideal for non-formal settings.
4. I love that the newest Loro Piana collection is full of soft, brushed fabrics but yet very light weight. These fabrics are great for all year round because they aren't very heavy. I love these collections; can you explain these fabrics and how important they are for today woman and man.
A particular mention needs to go the brand new Australis collection, in both the lighter plain weave construction in book 703, and the more complex one, in book 707.
Australis is a lightweight fabric, very comfortable, ideated to be worn all year around. The plain weave version also displays natural stretch properties. The Super 150'S wool fibers used are rather fine and light but at the same time extremely hard-wearing and durable, creating a fabric that is light weight, breathable and comfortable. The range of the articles is rather wide, spanning from sophisticated classics to more modern designs.
Let us now take a look at one of Loro Piana's traditional signature fabric, the Tasmanian. The current Tasmanian, book 691, is 100% Wool's Super 150s, but soon it will be elevated to 100% Wool Super 170's. Tasmanian has made a defining contribution to the history of men's elegance. A wool fabric weighing only 250 grams per meter that can be worn all year round, it heralded a clothing revolution in the 1980s. As a style icon, Tasmanian has evolved over the years, featuring increasingly fine wools, and it is now produced from Super 150's merino wool with an average fineness not exceeding 16 microns. Boasting a standard of quality that is immediately discernible, this soft, fluid fabric adapts to any occasion, 12 months a year.
5. Loro Piana has some of the most luxurious fabrics – can you tell my readers about these fabrics.
Another house name in the Loro Piana word is the Wish Super 170'S Wool, obtained from batches of Merino wool whose average fineness does not exceed 15 microns. A fineness comparable to the best Chinese cashmere that varies from 14 to 16 microns. A fineness that delivers an extraordinary fluid and soft fabric – all properties that can be immediately perceived at first touch. Thanks to a specifically studied weight, Wish can be worn throughout the year as it adapts perfectly to each season and to every climate and latitude, guaranteeing maximum comfort at all times. Precious and sophisticated, Wish has been conceived as a piece of textile architecture that accentuates the natural properties of wool to create the fabric for luxury garments, perfect also in its jersey double version.
In the luxury fabric and textile world a particular mention needs to be made for the Cashmere Cloud, one of the major articles in terms of sport coats. A luxuriously light combination of Loro Piana's highest quality cashmere and the finest silk in the world, known as Silk 600 because when unwound one kilogram stretches out to an incredible 570 km. The high percentage of cashmere (93%) lends an exceptionally soft, smooth hand to these feather-light fabrics, guaranteeing breathability and comfort. Designed for refined blazers and jackets to wear all year round, the exclusive comfort of Cashmere Cloud is a pleasure to enjoy throughout the warmer seasons.
If we turn our attention to suits, then the Super 200's, Wool and Vicuna obviously come to mind. This particularly refined blend displays an extraordinarily fluid handle, crafted from the noblest of natural fibres: lots of Super 200'S Merino wool – no more than 13.5 microns in diameter – combined with precious vicuña, the world's finest fibre. These unique raw materials, only available in limited quantities, come to the fore in the look and feel of this delicate blend, just perfect for refined, sophisticated suits.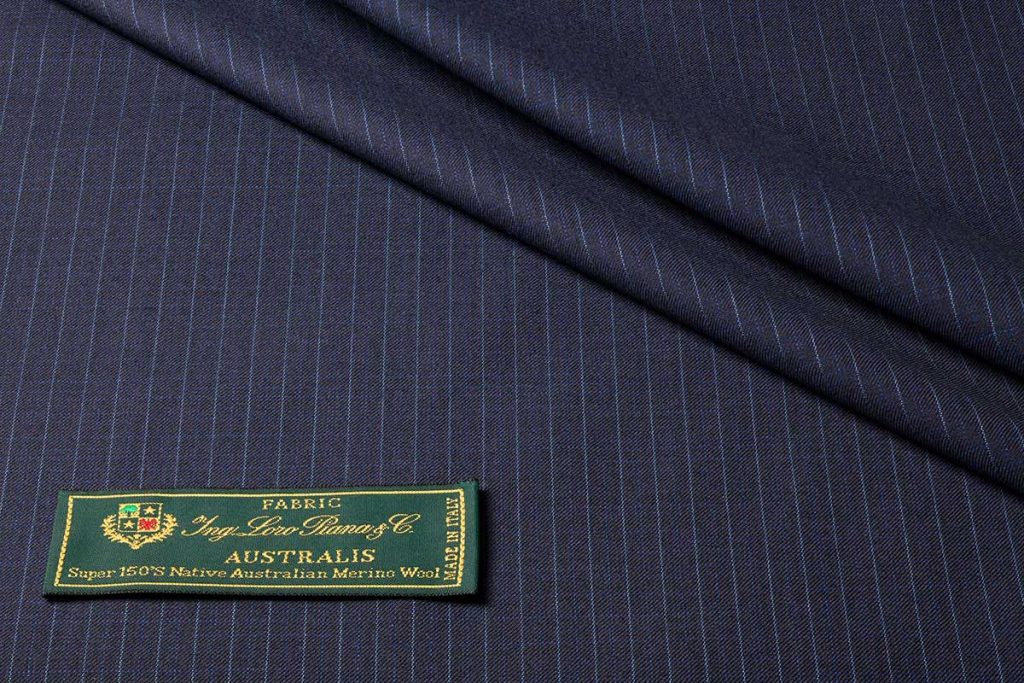 6. Most of my clients live and work in AZ where the weather is quite warm part of the year. What fabric would you recommend for my clients who are looking for a suit, jacket or trousers to wear in our warm temps
I would definitely advise the following collections:
Jackets 690, all year around sport coats (weight 8 ounces per yard)
Australis 703 (weight 7.125 ounces per yard)
Australis 707 (weight 8 ounces per yard)
Proposte Giacche and Proposte Suits for spring-summer (weight averaging between 5 to 11 ounces per yard, depending on the articles and fabric composition.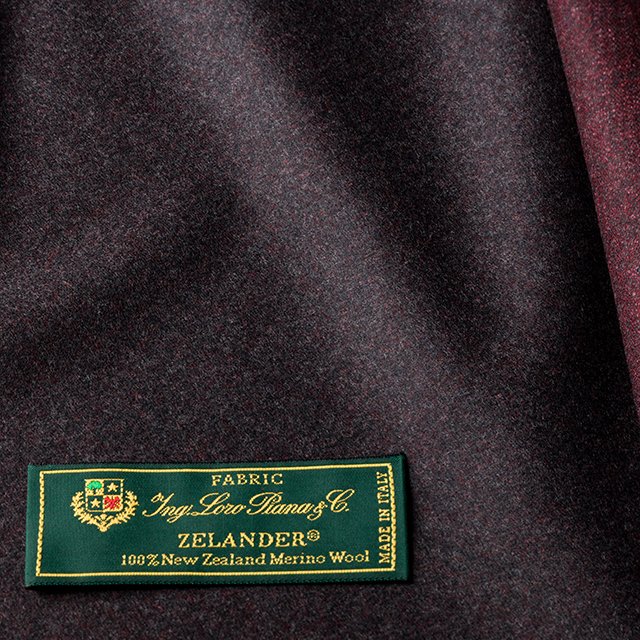 7. What's your favorite Loro Piana fabric?
Probably the Zelander High Tenacity, book 655 that however is not available any longer (but we are working on a new version).
This fabric is on the heavy side (weight of about 10.5 ounces per yard) and is close-knit and resistant, deriving from an extraordinary raw material and sophisticated production techniques. High Tenacity wool has its origins in the vast uncontaminated New Zealand pastures. Distinguished by its bright white color, its superior resistance and length, this wool is tightly woven with the highest possible number of yarns per square centimeter in both weft and warp. High Tenacity undergoes tensile strength and tearing resistance tests with excellent results that far exceed the average parameters of the best wool fabrics. It is therefore the ideal fabric for travel wear and every occasion requiring practicality and versatility.