Schedule an appointment
Call Mary - 602.301.6987
Email Mary - mary@qcontrary.com

For alterations, you do not need an appointment. Feel free to stop by the shop at any time for alteration services.

SUBMIT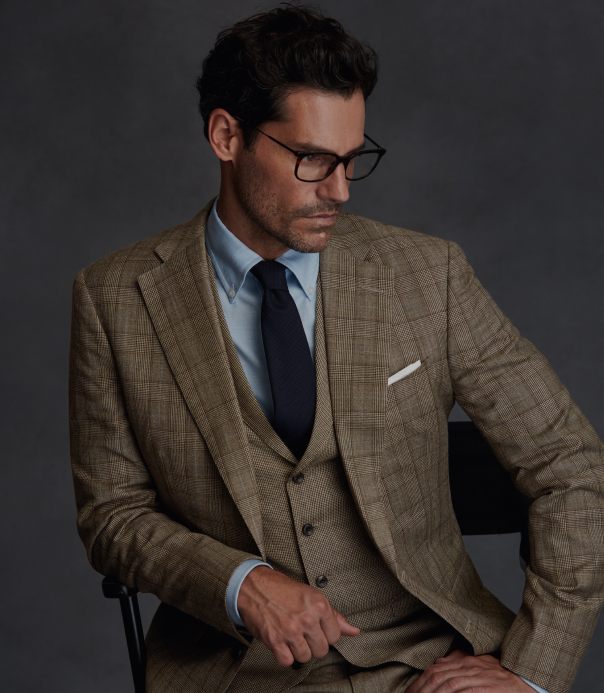 Bespoke suits and jackets are made with some of the finest fabrics
Designing a garment for the public is not what we do. Our Bespoke Tailoring line means that each order is unique, derived from a one on one consultation of our clients' specific needs, wants, requirements, shape, complexion, and schedule. Everything is tailored to optimize look, performance, feel, and fit. We look forward to guiding you along the way, offering professional recommendations.

A Bespoke suit is one that has been crafted almost entirely by hand. The pattern is handmade to the specifications of your body and the garment is hand cut by a skilled tailor exclusively for you. The buttonholes, pick stitching, pad stitching, lining, sleeves, and more are all hand sew by a tailor here in the US. Q. Contrary partners with master tailors who are trained with 40+ years of experience and are truly skilled in old-world tailoring.

Fabrics range in color, pattern, texture, composition, and weave. They also change with the seasons, and trends do come and go. We offer a full range of casual, formal, and business fabrics sourced from the best mills in Italy and the United Kingdom. The mills such as Gladson and Scabal are represented in our swatch collection. Narrowing it down to just one fabric can be overwhelming at times, but with our expertise, the decision will become manageable and fun.

The construction of our garments are of such great quality, that you will be wearing them for 10+ years. The inner linings, buttons, padding, canvas, and fabric will be top of the line. The only reason to buy again is because fashion is constantly changing, and you know we will be always up to date with the latest fittings, designs, and fabrics.
Book A Fitting
The Fitting Process
Having a bespoke suit or jacket made is an experience every gentleman should try. Unlike custom suits and jackets, bespoke clothing includes a first fitting where a try on garment is made to ensure the fit is exactly how you would like it. Your suit or jacket is sent, hand sewn together for a try on fitting. You get to see and feel your garment before it is finished. At this fitting, Mary will consult on how the jacket/suit fits, where you need more or less room, how you like the overall look and style.

After your first fitting, the garment is sent back to the tailors to be finished with all your comments and adjustments made. The entire process takes about 5-7 weeks. Mary can have your bespoke suit/jacket ready sooner if needed. Call or email to schedule your personal fitting.

• Bespoke Suits range from $2000-$6000
• Bespoke Jackets range from $1800-$4500
• Time frame is 5-7 weeks.

Please contact Mary directly at 602-301-6987 or mary@qcontrary.com to schedule your consultation today.
Book A Fitting
Privacy first, always
I have been fortunate to work with high-profile clients, and I remain committed to protecting the integrity of their privacy.
For clients that prefer the highest level of privacy during fitting appointments, I offer in-home or after-hours sessions at my store. All of your measurements are taken by me personally.

During fittings, the photos I need to collaborate with my tailors are always taken from the shoulders down to prevent identification, and unless you provide me with your explicit consent, I will not share any photos for promotional reasons.

Call me old-fashioned, but I also refuse to use cloud-based tools for my client records to avoid unwanted eyes on their information. Any personal information is stored on a private device and securely kept on premise.
Book A Fitting
Get Men & Women's Style tips from our blog
Shop wardrobe inspiration
what's the occasion?
In today's fast-paced lifestyle, we all have a wide variety of "occasions" from work to weddings to date night and even the golf course that require different types of clothing. Q. Contrary stands ready to help you select what's appropriate not only for you, but for each different situation that requires a "change of clothes."
check out our style guides
WELL-FITTING QUALITY CLOTHING AND POSITIVE EXPERIENCES BRING US JOY.

A standard of excellence
Making a good first impression is so important.

"Mary has custom made both shirts and jackets for me. In addition, she has helped me find the right accessories to pull my look together. She carries amazing fabrics and patterns for both shirts and jackets, and her attention to detail is unsurpassed. Mary is professional and working with her is a pleasure. I asked her to speak to my executive team about dressing professionally. Her knowledge and insight helped inspire and guide them to dress in a more professional and polished manner at the office. I would highly recommend Mary."


Tim O'Neal, CEO
- Goodwill Industries

The Quality Of Her Shirts Is Top Of The Line, And I Enjoy Wearing Them.


"I enjoy working with Mary. She has a great eye for fashion and always helps me select fabrics and patterns for my custom shirts. I'm super busy and appreciate that she meets me at my office, thereby eliminating the need to go to the mall. The quality of the shirts she makes is top of the line. I enjoy wearing them."


Michael Lieb, President
- Michael Lieb, Ltd.

Every Time I Wear Something Made By Mary, People Always Ask If I've Lost Weight.


"I have been buying clothes from Mary for about five years now, and I wish I would have met her years ago. She does a great job selecting patterns, styles and clothing for me. Every time I wear something custom made by Mary, people always ask if I have lost weight."


Bo Calbert, Retired
- Former President of McCarthy Southwest

I Enjoyed My Entire Custom Suit Experience With Mary.


"She's very knowledgeable regarding the latest fabrics and styles. I highly recommend Q. Contrary and Mary."


Ryan Sarbinoff, Vice President, Regional Manager
- Marcus & Millichap

She is the BEst!

"I strongly recommend having Mary help you with your business or casual wardrobe. You will be glad you did."


Jay Thorne, Assistant Vice President Media Relations
- Arizona State University

Feeling Good And Looking Good Are Tied Intrinsically.


"Q. Contrary and Mary Zarob have helped me achieve both with her expert wardrobe advice, perfect fitting custom made shirts and her "superpowers" that give her the ability to tell you exactly the right look for any event."


Ben Smith, CEO
- BioXSkinCare
Making a good first impression is so important.

"Making a good first impression is so important. Mary has helped custom make me shirts, jackets and find the right accessories to pull my looks together. She has amazing patterns, fabrics, and attention to detail. Mary is professional and a joy to work with. I had her speak to my executive team on dressing professionally. Her knowledge and insight helped inspire and guide my team to dress professionally and polished for the office. I highly recommend Mary."


Tim O'Neal
- CEO Goodwill

The quality of the shirts is top of the line and I enjoy wearing them.

"I enjoy working with Mary. She has a great eye for fashion and always helps me pick great fabrics and patterns for my custom shirts. I'm super busy and appreciate that she meets me at my office and I don't have to go to the mall. The quality of the shirts is top of the line and I enjoy wearing them."


Michael Lieb
- President Michael Lieb, Ltd.

Every time I wear something made by Mary, people always ask if I have lost weight.

"I have been buying clothes from Mary for about 5 years now and wish I would have met her years ago. She does a great job picking out patterns, styles and clothes for me. Every time I wear something made by Mary, people always ask if I have lost weight."


Bo Calbert
- Retired President of McCarthy Southwest

She's very knowledgeable regarding the latest fabrics and styles.

"I enjoyed my entire custom suit experience with Mary. She's very knowledgeable regarding the latest fabrics and styles. Highly recommend!"


Ryan Sarbinoff
- Vice President | Regional Manager at Marcus & Millichap

Have Mary help with your business or casual wardrobe. You will be glad you did.

"She is the best. Have Mary help with your business or casual wardrobe. You will be glad you did. (It's not really like shopping!)"


Jay Thorne
- Assistant Vice President Media Relations at ASU

Feeling good and looking good are tied intrinsically. Q. Contrary and Mary Zarob have helped me to do both.

"Feeling good and looking good are tied intrinsically. Q. Contrary and Mary Zarob have helped me to do both, with her wardrobe advice, custom made shirts and her superpowers to tell you exactly the look for any event."


Ben Smith
-CEO BioXSkinCare
Men's Clothing, Suits, Tailor & More in Phoenix, East Camelback Road, Phoenix, AZ, USA

Contact Q.contrary
3168 E Camelback rd, phoenix, AZ 85016

Monday - Thursday
9:00am - 6:00pm

Friday
9:00am - 5:00pm

Saturday
9:00am - 3:00pm

Sunday
CLOSED